About Ford's World Travel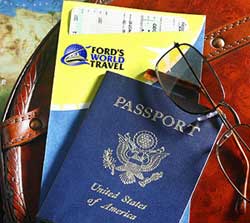 Ford's World Travel has been in the retail travel business since 1968 and has been serving the Northwest Valley since 1969. Owned and operated by the Ford/Bachmann family, Ford's currently has two office locations - one in Sun City and one in Sun City West serving the entire West Valley and beyond. Our ability and experience serving the leisure traveler over the years, along with our commitment to and involvement in the Northwest Valley community has enabled us to become the largest retail travel agency in the area.
Being locally owned and operated, we are able to offer the most responsive service to the travelers in our communities. And our affiliation with Signature Travel Network affords our customers additional benefits including:
Over $5 Billion in Buying Power: You always receive the best value for your vacation dollar.
One-stop, Full-service Organization: Our travel consultants can handle all of your travel needs. One call does it all.
Exclusive Privileges: Signature clients enjoy a wide range of exclusive benefits when they book their cruise, hotel or resort.
Global Network: Worldwide partnerships enable us to create travel experiences that will exceed your expectations.
Knowledge & Destination Expertise: Our travel professionals will share invaluable personal insights to ensure your travel experience is unique and memorable.
Peace of Mind: You decide where to go and leave the intricate planning to a professional who will be there for you before you leave, during your trip and when you return.
Ford's World Travel looks forward to working with you on all your travel needs.